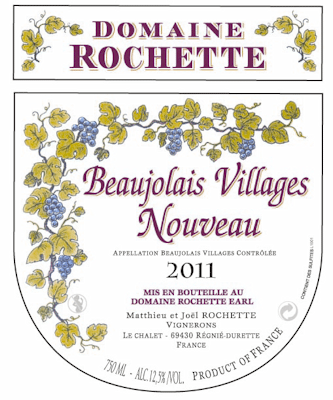 The third Thursday in November is not the grandest date in the wine calendar but it is one of the most frivolous. Last thursday was Beaujolais Nouveau day, when Beaujolais celebrates the release of its latest vintage. In stark contrast to Bordeaux's drawn out en primeur campaign, Beaujolais's latest vintage is released without fanfare for immediate enjoyment.
View from Domaine de la Rochette
Unlike the 'classic' mouthwash taste typical of Beaujolais Nouveau, this was a surprisingly good and already well developed wine. This could bode well for the 2011 vintage. Domaine de la Rochette in Régnié has produced a great little wine.
In true burgundian style we tasted the wine with gougères. It had a surprisingly deep violet core; attractive Beaujolais bubble gum nose; very light, silky fruit & lots of granite minerality without excessive acidty and a short 'ribena' finish. 1* 6/10